June 26, 2019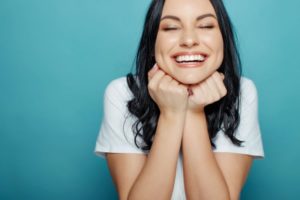 This summer, you have endless weekend outings and road trips planned with your friends. While you're excited to finally start getting out of the house more, each time you get ready to leave, you can't help but be discouraged when you crack a discolored and damaged smile at yourself in the mirror. A great smile says a lot about a person, and you've always admired people that were confident in their grin. This summer, you don't have to just want a great smile, because your cosmetic dentist in Glasgow, MO can give you one! Read on for 3 dental procedures that can help make your pearly whites your favorite trait!
Teeth Whitening Can Give You One Of The Brightest Smiles At The Beach
If the biggest thing that irks you about your smile is your stained teeth, a professional whitening treatment can give you fast and noticeable results. Instead of taking a gamble on your oral health and grin with over-the-counter whitening products, get the proven safe and effective solution that will deliver the results you want.
Your dentist offers a couple of options, depending on your schedule and comfortability. You can get a complete in-office treatment that will give you a noticeably whiter smile in less than an hour. Or, if you wanted to do it in the comfort of your own home and on your own time, you could get a customized professional-grade take-home whitening kit instead!
Channel Your Inner Hollywood Star With Porcelain Veneers
If you have multiple dental imperfections that you're looking to conceal, porcelain veneers can do it all! This procedure typically takes place over the course of a few visits to your dentist and can improve a variety of flaws such as:
Gaps between teeth
Chipped or cracked teeth
Oddly shaped teeth
Discolored teeth that can't be fixed with teeth whitening
Misaligned teeth
Using durable porcelain shells that cover the visible surface of your teeth, veneers help transform a smile riddled with imperfections into a seamless one. Not to mention, they're also stain resistant, so you can enjoy a bright and natural-looking smile for years to come.
Get Your Dreamy Grin With Direct Bonding
If you're looking to repair chipped, cracked, or misshapen teeth, direct bonding can be the cost-effective solution you've been looking for. Your cosmetic dentist chooses a composite resin that matches the shade of your smile, so it looks completely natural. They'll shape and sculpt it to match the size and even alignment of your other teeth, and then bond it. This procedure can be done in a single visit, making you beach ready that same day!
You can get the most out of your summer plans by improving your smile with a cosmetic procedure. When you're holding a conversation with someone new, instead of worrying about how your teeth look, you can focus on establishing great connections! You won't regret investing in your grin when you leave your dentist's office with newfound confidence!
About the Author
Dr. Joseph Kelly has completed one of the country's top training programs for advanced dentistry. He enjoys getting to see his patients smile after he helps them achieve their dental goals. He provides a variety of cosmetic dental options for his patients because he knows how much of an impact having a great smile can have on a person. For questions or to schedule a consultation, visit Great Impression Dental's website or contact 660-882-7522.
Comments Off

on Get A Refreshed Summer Smile With These 3 Solutions From Your Dentist In Glasgow, MO
No Comments
No comments yet.
RSS feed for comments on this post.
Sorry, the comment form is closed at this time.