Advanced Electric Handpiece
Enjoy Quieter, More Efficient Dental Treatment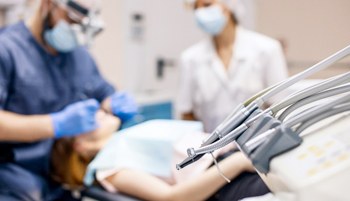 Many patients experience some level of nervousness when they visit the dentist. Part of the reason for their fear may be due to the noises that fill a dental practice — admittedly, the sound of a typical dental drill can be a little intimidating! That is why Dr. Kelly, your dentist in Boonville, has invested in an advanced electric handpiece that is much quieter than other models. It is also smaller and more efficient.
How the Handpiece Works
The secret to the handpiece's quiet operation is its micromotor technology. Thus, it can provide powerful operation without making a lot of noise. Dr. Kelly can use this tool for a number of different procedures. For example, he can use it to prepare teeth for fillings, crowns, and bridges. It even has a setting that makes it useful for endodontic procedures (root canal therapy).
Benefits of the Handpiece
Both patients and Dr. Kelly can experience a number of benefits thanks to this remarkable tool:
The tool's quieter operation allows for a more comfortable patient experience.
Hearing loss among dentists is a widespread problem. Quieter machinery protects Dr. Kelly and our staff members.
The handpiece's control unit is small, allowing for a more streamlined operatory.
The handpiece is very efficient. It therefore has the potential to reduce procedure time.
Many other handpieces run the risk of overheating and causing burns. This handpiece has a safety feature that causes its head to automatically slow down or shut off when there is a risk of overheating.