Repair Your Broken Smile with Restorative Dentistry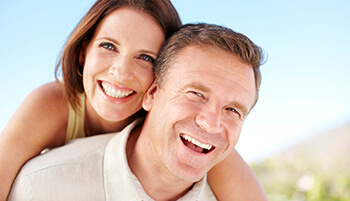 If you have chipped, cracked, or broken teeth, Dr. Joseph Kelly and our team at Great Impression Dental can help. We have a variety of treatments that can take even the most damaged smiles and make them new again. If time has been unkind to your teeth, don't worry – we can help you smile confidently once again. You can learn more about our restorative treatments below and contact our office to schedule an appointment. We're happy to serve the residents of Boonville, Pilot Grove, Fayette, New Franklin, Blackwater, and Columbia MO!
Traditional Crowns & Bridges
Two of the most reliable ways we restore people's smiles involve using traditional crowns and bridges.
A crown can be used to fix a tooth that has been damaged due to decay or injury. It simply slips on top of the tooth to restore both its lost structure and appearance. This is why it is often called a "cap." It can be made of metal, porcelain fused to metal, or full porcelain. Each material has its own advantages, and Dr. Kelly will discuss all of them with you before beginning treatment.
A bridge can be used to replace a row of missing teeth. It works by attaching prosthetic teeth to crowns placed on either side of the gap in the smile. The prosthetic teeth literally form a "bridge" between them.
Both restorations are excellent at restoring both functionality and aesthetics, and you can get them in just two easy visits.
Tooth-Colored Fillings
We prefer to use tooth-colored fillings as opposed to traditional amalgam fillings. Firstly, tooth-colored fillings can be specially shaded to perfectly match a person's tooth color, assuring it won't be marred by unsightly gray streaks. Also, it actually does a better job of restoring a tooth because the material used (a composite resin) bonds directly to the enamel. This means it requires less of your tooth to be removed when placed, which leaves more of your natural tooth's strength intact.
Dentures & Partial Dentures
Modern-day dentures are much more comfortable and natural-looking than ones in the past. Yes, they are still made of a gum-colored base attached to prosthetic teeth, but current methods assure that patients will be sure to get the ideal look and fit they desire.
A partial denture can be used to replace missing teeth throughout the mouth and are usually held in place using metal clasps. A full denture, on the other hand, can restore an entire arch of teeth, and can be held in place using natural suction or denture adhesive.
Root Canals
Would you be surprised to know that root canals are actually quite painless? Thanks to modern dental practices, patients often don't feel anything! They are typically used to repair teeth that have sustained damage to their innermost layer where the sensitive nerve resides. They are one of the best ways to relieve the most severe dental pain and save teeth that normally would need to be extracted. If you are coming to see us for a root canal, don't worry – we'll make sure you have a completely stress-free experience.
Extractions
Unfortunately, despite our best efforts, sometimes the best solution for your smile is to extract a tooth. We always take great care to avoid this, but when it is necessary, we can perform your extraction with the precision and gentle touch that you need. Teeth extractions are typically needed when:
A tooth is too damaged to be restored
Decay/damage on one tooth is threatening neighboring teeth
To make room for a full denture
To replace the tooth with a dental implant
Wisdom Tooth Extractions
The third set of molars, more commonly known as the "wisdom teeth," simply don't fit in most people's mouths. This can cause them to become stuck (otherwise known as "impacted") while trying to erupt, and this can lead to jaw pain, crowding, and even an infection. We perform wisdom teeth extractions for many of our patients right in our Boonville, MO office, and we will always keep an eye on your wisdom teeth during regular checkups to make sure we remove them before they can cause any problems. If your case needs to be referred to a specialist, our office works with some of the most talented surgeons in Missouri.