Beautiful Dental Crowns
Sometimes dental damage is more significant than can be repaired with a simple filling. If you have a severely decayed tooth or if one or more pearly whites have gone missing altogether, it's possible that dental crowns in Boonville can help! At Great Impression Dental, we are pleased to provide high-quality restorative dentistry solutions to help you continue to smile with full health and confidence.
What Is a Dental Crown?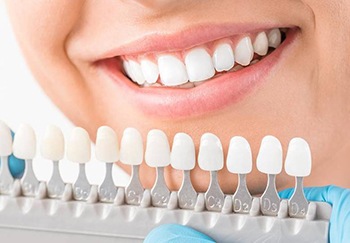 A dental crown is a tooth-shaped covering that is custom-designed to fit securely over a damaged tooth. A dental crown can be used to correct a number of issues, including:
Repairing a broken or cracked tooth
Restoring a severely decayed tooth
Fixing a damaged or leaking cavity
As the final step in a root canal procedure
Replacing a missing tooth (when supported by a dental implant)
Making cosmetic improvements to a severely damaged front tooth
Dental crowns can be made from a variety of materials depending on the location of the tooth, your budget, and your personal preference. We will fully discuss your options to help you decide which one may be best for you.
What Is a Dental Bridge?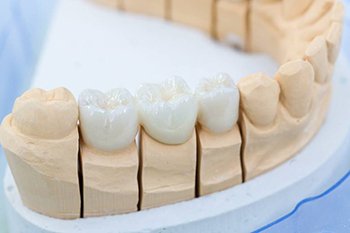 A dental bridge is a restoration that replaces one, two, or several teeth that have gone missing altogether. A fixed bridge is permanent and cannot be removed. Two sturdy crowns are placed on each of the teeth that surround the gap, and prosthetic teeth (pontics) fill in the space between. In this way, a literal bridge is formed to restore your ability to eat, speak, and smile with confidence.
What's the Process for a Crown and Bridge?
It takes two visits to our office to get a crown and bridge. During the first appointment, any tooth that will receive a crown will be reshaped to accommodate the new restoration which will be fitted on top. Local anesthesia is used to keep you comfortable throughout the process. Impressions of the tooth/teeth will then be made, and this information will then be sent to a separate lab, and temporary crown(s) placed on top of the prepared teeth. You return to our office one to two weeks later to receive the permanent restoration.
Benefits of a Dental Crown and Bridge
Restored ability to speak and smile with confidence
Crowns and bridges look completely natural with customization
Eat what you like
Remaining natural teeth stay in place
Quality restorations can last for decades
And many more!
Let's Save Your Smile!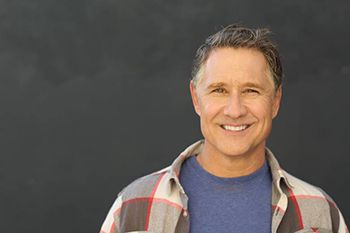 Are you dealing with a severely decayed, damaged, or failing tooth? A crown or bridge may be the best solution for you. Get in touch with your dentist in Boonville today to find out! Don't hesitate to contact Dr. Kelly's office today.