Porcelain Veneers
Transforming Smiles with Porcelain Veneers
When you look at your smile, do you notice imperfections in your teeth that you'd love to fix? Maybe you have an oddly shaped tooth, a minor misalignment, or teeth that just won't whiten even with professional treatment. Well, believe it or not, we offer a cosmetic solution that can address all these situations—porcelain veneers. This versatile and simple treatment option can range from correcting even the tiniest imperfection to undergoing a complete smile makeover. Either way, we at Great Impression Dental are committed to helping you reach your smile goals.
What are porcelain veneers?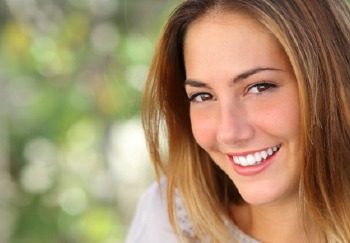 As thin shells of ceramic material, porcelain veneers are adhered to the front surfaces of your teeth to change the size, color, and shape of your teeth. They conceal flaws including the following:
Gaps between teeth.
Chipped teeth.
Misshapen teeth.
Worn-down teeth.
Slightly misaligned teeth.
Discoloration in teeth that doesn't respond to whitening.
What are the benefits of porcelain veneers?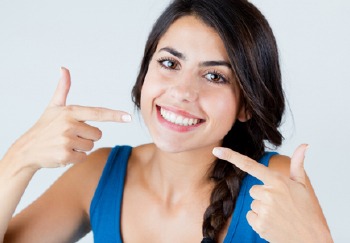 As a popular cosmetic solution, porcelain veneers have many advantages:
Natural appearance. The porcelain material reflects light much like tooth enamel, so you can trust that the results will look completely natural.
Versatility. Porcelain veneers are particularly helpful when a tooth has multiple kinds of flaws. It can treat them all instantly!
Durability. Veneers are extremely durable and can withstand everyday wear and tear.
Stain resistance. Porcelain veneers are actually better at resisting stains than tooth enamel, so you can enjoy your flawless smile for longer!
What is the process for getting porcelain veneers?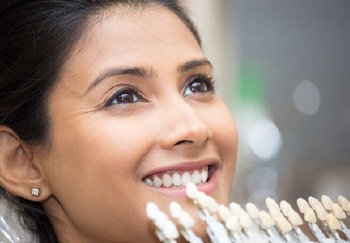 Once you and Dr. Kelly have determined that porcelain veneers are the right treatment choice for you, placing them follows this process:
Kelly will remove a small portion of the enamel to make room for the veneer.
Then we will take an impression and specific measurements of your teeth, which will be used to create your personalized veneer at a dental lab. We will place a temporary one in the meantime.
When the final product is ready, you'll return to our office so that we can bond your veneer to your tooth, instantly improving its appearance.
In as little as two appointments, you can dramatically transform your smile. It's that simple!
How much do porcelain veneers cost?
Each patient is unique, so we customize their treatment to fit their individual needs. As a result, the cost associated with porcelain veneers also varies case by case. At your consultation when you meet with Dr. Kelly, our experienced team can also help you understand the cost of the procedure and work with you to make it affordable for your budget. The first step toward the smile of your dreams is scheduling that consultation!
At Great Impression Dental, we realize how important your smile is for your confidence, and we want you to be proud to show yours to the world. We give you one-on-one attention and ensure that we're meeting your needs. Come see the difference our team make for your smile by scheduling a consultation with Dr. Kelly today!