Get the Smile of Your Dreams with Cosmetic Dentistry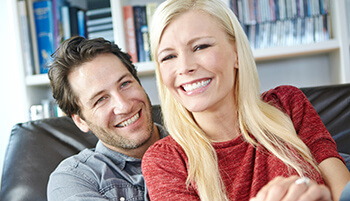 Dr. Joseph Kelly and our team at Great Impression Dental love to do two things: give people a healthy set of teeth and then make their smile truly shine. Whether you're looking for something dramatic or subtle, our cosmetic treatments can give you the exact kind of smile you'll want to see every day in the mirror. Every treatment starts with a consultation so we can know exactly what you want. Are you ready to have a smile that truly lights up a room? If so, just contact our office today. We can help patients in Boonville, Pilot Grove, Fayette, New Franklin, Blackwater, and Columbia, MO.
Porcelain Veneers
With just one procedure, porcelain veneers can:
Instantly whiten your teeth
Fix small chips and cracks
Repair broken teeth
Make teeth appear straighter
They are extremely thin porcelain coverings that are bonded to the front of your teeth, and they can give you a complete smile makeover all by themselves. They only take 2-3 visits to get and can last for years with simple home oral hygiene and regular check-ups.
Metal-Free Restorations
We understand that your teeth (especially the ones that show when you smile) need to look as good as they feel. In many cases we use all-porcelain crowns and bridges that can be fabricated to blend seamlessly with your smile. In the end, the only person who will know that you've had dental work is yourself.
Direct Bonding
If you're looking for a quick and cost-effective way to fix small chips and cracks, direct bonding is your answer. Dr. Kelly will apply a putty-like composite resin to your teeth and can sculpt it to improve a tooth's shape, size, color and even alignment. He'll then use a special curing light to harden it in a matter of minutes.
Teeth Whitening
The color of your teeth is one of the most important aspects of your smile. At Great Impression Dental, we have two options to help you make your smile truly shine. We can provide a custom take-home kit so you can whiten on your own schedule, or we can perform a complete treatment in our office that only takes an hour. Either way, deep stains will be a thing of the past and your smile will be several shades whiter before you know it!
Gum Recontouring/Crown Lengthening
Do your teeth look short and stubby? Would you say your smile is "gummy?" If so, we can help. A smile needs to have just the right proportion of gum-to-teeth in order to be perfect, and we help you achieve that balance with gum recontouring/crown lengthening. Using a soft tissue laser, Dr. Kelly can painlessly remove excess gum tissue and expose more of your natural teeth. For many people, this is also the first step to getting a set of porcelain veneers as well.