September 16, 2018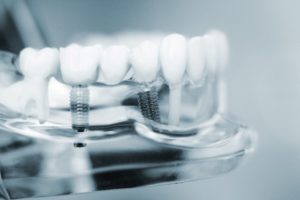 You enjoy having options in life. Why should replacing your missing teeth be any different? Now, instead of traditional tooth replacement solutions, like dentures, you can benefit from dental implants in Boonville. While it is commonly believed that they can only be used to replace a single tooth, this is not true. They can be used to treat all cases of missing teeth; however, the materials used will vary slightly.

How Many Teeth Can I Replace?
Dental implants can be used to replace one, multiple, or all missing teeth. Offering over a 95% success rate, you can regain the next best thing to your own with a solution that has the potential to last for a lifetime.
Single Tooth
When a single tooth is missing, both the root and the crown are replaced. A biocompatible titanium implant post is surgically placed into your jawbone. This replaces the root to provide a secure and stable foundation for the replacement tooth. In addition, it stimulates new bone growth to allow your jaw to fuse to the post.
After your jawbone has healed, an abutment is then attached to it. This acts as a connector piece to allow a custom-made crown to be placed. It will be made to match the exact size, shape, and color you need to blend in with your remaining natural teeth.
Multiple Missing Teeth
Now, you can enjoy an alternative to a traditional bridge. Prosthetic teeth with be created to fill the gap, like that of the conventional option. Instead of placing dental crowns on the adjacent teeth to hold it in place, an average of 1 or 2 implant posts are used. This helps to preserve your remaining natural teeth to improve your oral health. By stimulating new bone growth, it will provide the support your remaining teeth need to stay firmly in place, preventing additional tooth loss in the future.
All Teeth
If traditional dentures have failed to give you the results you want, you can benefit from a secure and stable solution with dental implants. A custom-made denture is made from impressions of your mouth. An average of 4 implant posts are used to anchor it in place. You will not have to worry about any slipping or irritation. In fact, you will enjoy an increased biting force of over 70% when compared to traditional dentures.
Which is Right for Me?
If you are ready to replace your missing teeth, your dentist in Boonville will find the solution that is right for you. Benefit from the security of dental implants to complete your smile.
About Dr. Joseph T. Kelly
Dr. Joseph T. Kelly has undergone extensive training in advanced areas of dentistry, like dental implants. He embraces the latest innovations in dentistry to help his patients regain a healthy, functional smile. If you are ready to enjoy the benefits of dental implants, he will create the customized treatment plan that you need. Contact Great Impression Dental to schedule your consultation.
Comments Off

on Indications for Dental Implants in Boonville
No Comments
No comments yet.
RSS feed for comments on this post.
Sorry, the comment form is closed at this time.